Human Tumor Necrosis Factor Alpha (TNF-alpha) Detection Assay Kit
Size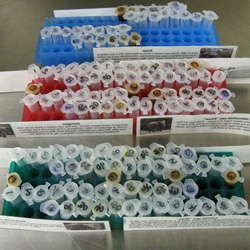 1 assay kit or ELISA kit
Catalog no.
6801
Price
444 EUR
Get this product at gentaur.com
---
Tissue
tumor
Test
Chondrocytes and collagens supplies other types of Assays as 1.
Properties
Human proteins, cDNA and human recombinants are used in human reactive ELISA kits and to produce anti-human mono and polyclonal antibodies. Modern humans (Homo sapiens, primarily ssp. Homo sapiens sapiens). Depending on the epitopes used human ELISA kits can be cross reactive to many other species. Mainly analyzed are human serum, plasma, urine, saliva, human cell culture supernatants and biological samples.
Gene
Tumor necrosis factor (TNFa, tumor necrosis factor alpha, TNFα, cachexin, or cachectin) is a cell signaling protein (cytokine) involved in systemic inflammation and is one of the cytokines that make up the acute phase reaction. It is produced chiefly by activated macrophages, although it can be produced by many other cell types such as CD4+ lymphocytes, NK cells, neutrophils, mast cells, eosinophils, and neurons. TNFb or TNF beta also bin on TNF receptors for Th1 activation.
Description
The Tumor Necrosis Factor Alpha (TNF-alpha) Assay Kit is a α- or alpha protein sometimes glycoprotein present in blood.The detections of the targets with this kit is a type of test that can be performed on any target containing biological samples after clean up of interfering agents. The assay must be performed following the protocol.Aplha, transcription related growth factors and stimulating factors or repressing nuclear factors are complex subunits of proteins involved in cell differentiation. Complex subunit associated factors are involved in hybridoma growth, Eosinohils, eritroid proliferation and derived from promotor binding stimulating subunits on the DNA binding complex. NFKB 105 subunit for example is a polypetide gene enhancer of genes in B cells.
References of collagen and chondrocyte research and assays
R. B. Clague, K. Morgan, T. I. Reynolds, H. J. Williams. The prevalence of serum IgG antibodies  to Type II Collagen in American patients with rheumatoid arthritis. British Journal of Rheumatology, 1994;33:336­338 Kim W.­U., Yoo W.­H., Won Park, Kang Y.­M., Kim S.­I., Park J.­H., Lee S.­S., Joo Y.­S, Min J.­  K., Hong Y.­S., Lee S.­H., Park S.­H., Cho C.­S., Kim H.­Y. IgG antibodies to type II collagen reflect inflammatory activity in patients with rheumatoid arthritis. Journal of Rheumatology, 2000; 27(3):575­581. Terato K., DeArmey D.A., Ye X.J., Griffiths M.M., Cremer M.A. The Mechanism of Autoantibody  Formation to Cartilage in Rheumatoid Arthritis: Possible Cross­Reaction of Antibodies to Dietary  Collagens with Autologous Type II Collagen. Clin Imm Immunopath, 1996; 79(2):142­154(13)  Terato K, Shimozuru Y, Katayama K, et al. Specificity of antibodies to type II collagen in rheumatoid arthritis. Arthritis Rheum 1990;33:1493­500.