anti-Ascorbate Peroxidase Microplate Assay Kit Antibody, 100 Assays
Size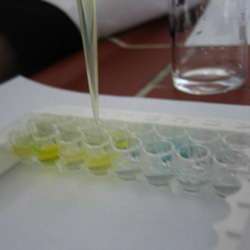 100 Assays
Catalog no.
CAK1052
Price
601 EUR
Get this product at gentaur.com
---
Form
pure
Range
broad
Clone
1 vial
Molecular weight
in kDa
Purity
purified
Protein number
see ncbi
Source
mammalian
French translation
anticorps
Category
assay_kit
Raised in
laboratory
Reactivity
not determined
Application
not determined
Activity
to be determined
Test
acr supplies other types of Assays as 1.
Storage
Shipped at 4°C. Upon delivery aliquot and store at -20°C for one year. Avoid freeze/thaw cycles.
Conjugate
Peroxidases with EC number 1.11.1.x are catalyzing the reaction of ROOR' + electron donor (2 e−) + 2H+ → ROH + R'OH
Properties
If you buy Antibodies supplied by acr they should be stored frozen at - 24°C for long term storage and for short term at + 5°C.
Description
This antibody needs to be stored at + 4°C in a fridge short term in a concentrated dilution. Freeze thaw will destroy a percentage in every cycle and should be avoided.